Surgical Operating Microscope (SOM) Global G6
Endodontics is entirely dependent upon our ability to see inside the access. I will admit to being a scope skeptic early in my career, but I was shown to be totally wrong.  After treating tens of thousands of cases,  I concluded that 2-5x loupes are insufficient magnification to perform endodontics (especially in molars) properly.
Global Surgical Operating Microscopes have been an extremely reliable, dependable and quality company that not only produces a great product but also supports its users. My current operatories are equipped with two global G6 six step microscopes and my third  (emergency/recall) operatory with an older Entree extra 4 step scope. Each of them is equipped with Digital SLR camera and digital video outputs to monitors which are used by my assistants to observe.
Why an SOM?
(1) Only the SOM has levels of magnification that allow you to see things such as Dentin color, calcifications, pulpal floor anatomy, and into canals with such precision.
(2) The coaxial light solid state source is much brighter than any dedicated headlamp or other light based reflective type of illumination source . The simple fact is this: once you start using a scope you will never go back because you will see things that you never saw before.
The most recognizable scope manufacturers include  Global, Zeiss, and Seiler. Other scope manufacturers (such as Chinese copies like Zumax) are available, but I suggest you stick with either Global or Zeiss.
I favor the Global scope because it is ruggedly built and dependable. Local (and even US!!) support has been terrific. My Canadian Global representative has always been very helpful, prompt and I have never had problems getting additions, parts or service with any of the Global scopes that I own.
While a dedicated separate assistant ocular is the optimal setup for ergonomic SOM use, my older operatory setup doesn't have the room to allow for this. So, instead I have used a dual beam splitter to allow for:
(1) Still camera image output directly into the patient's chart with TDO and Breeze software programs  and
(2) A video camera output to a monitor that is strategically placed directly across from my assistant. This "poor man's assistant scope" allows her to also see what I am viewing through the oculars.
Global Surgical Corp. receives my highest level of recommendation.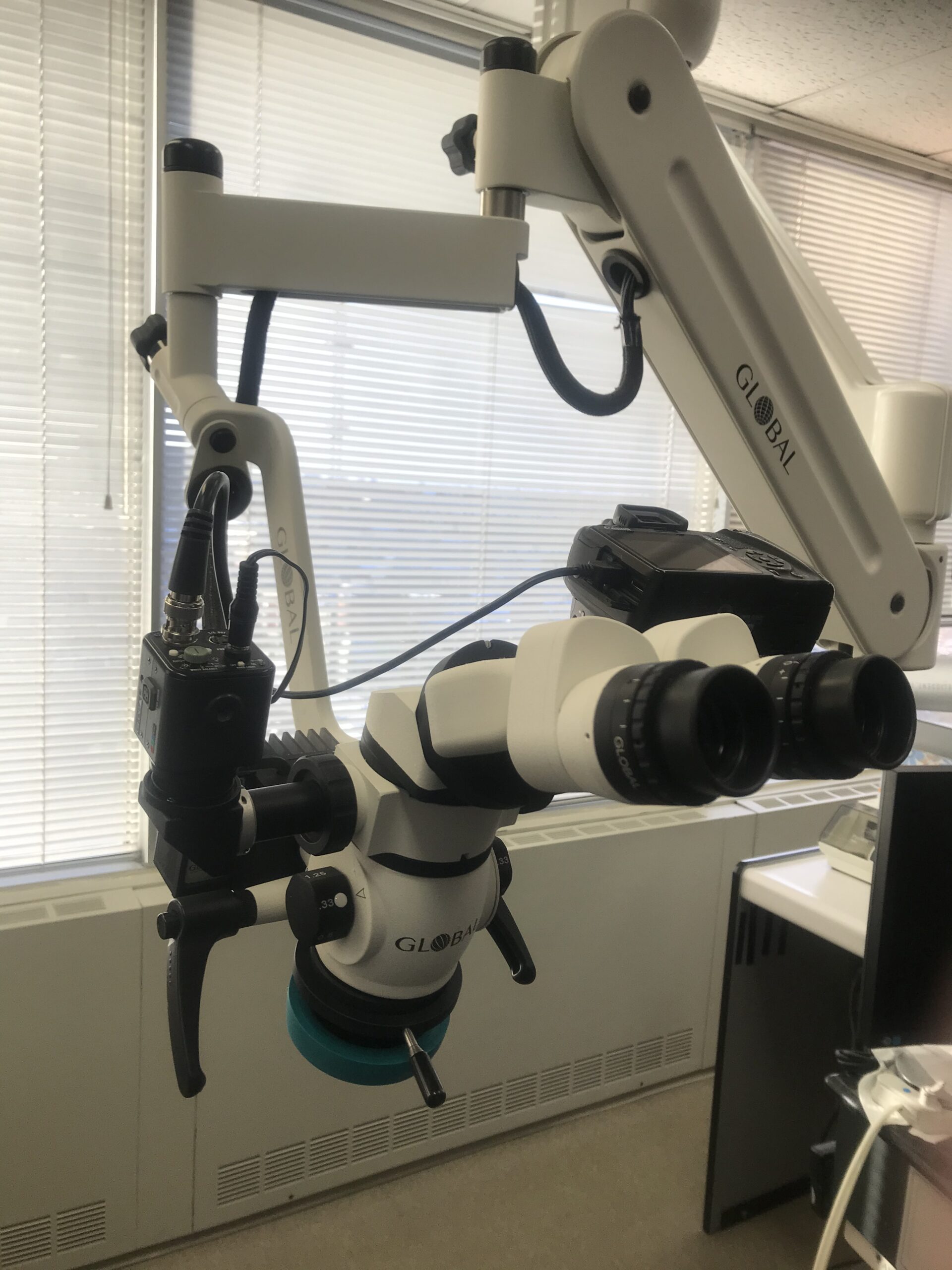 Figure 1 : Global G6 in operatory 1
G6 with integrated dual beam splitter that allows for both still and video outputs. I prefer to have the DSLR placed on the side with my "dominent" eye to make focus easier.
Manufacturer: Global Surgical Corporation
Cost: Consult your Scope representative for options and costs
M528 X Mount Camera Adapter
The XMount camera adapter was invented by Endodontist Dr. Eric Herbranson and allows your individual camera to be interfaced with your Surgical Operating Microscope (SOM) via C mount on the beam Splitter.  Various adapter rings may need to added to allow it to be secured to the camera lens.  (An Excel spreadsheet of cameras and required rings can be downloaded)
Once in place, a USB activated camera can have its shutter triggered remotely (by software such as Breeze) to allow you to take picture seamlessly during treatment.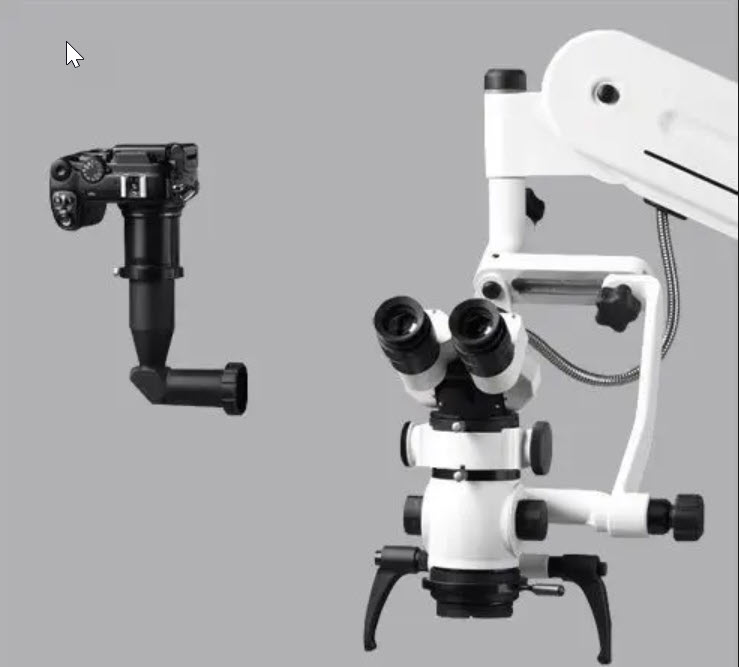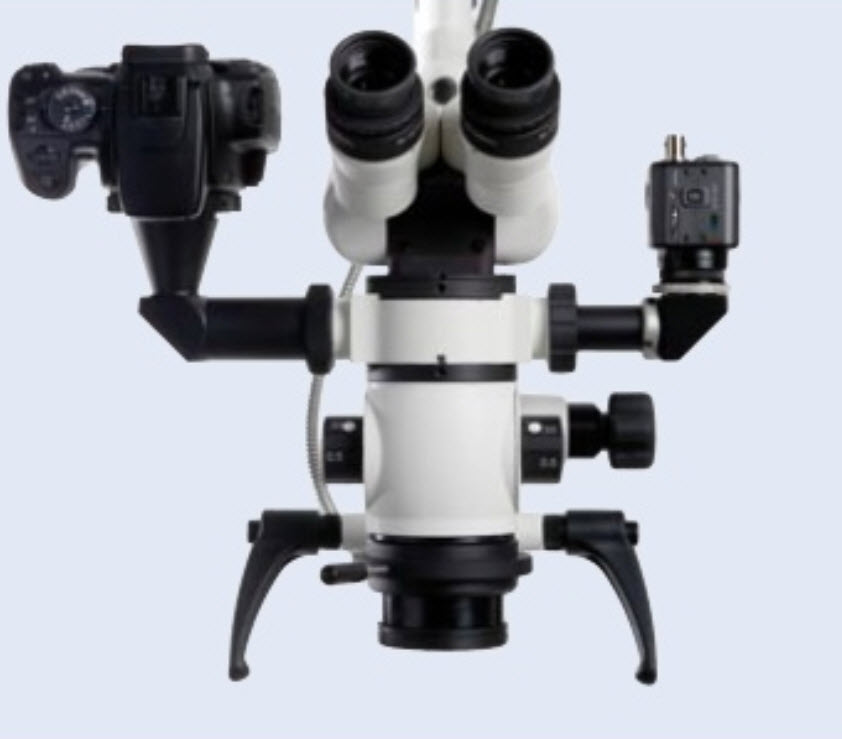 Figure 2 : Global G6
G6 with integrated dual beam splitter that allows for both still and video outputs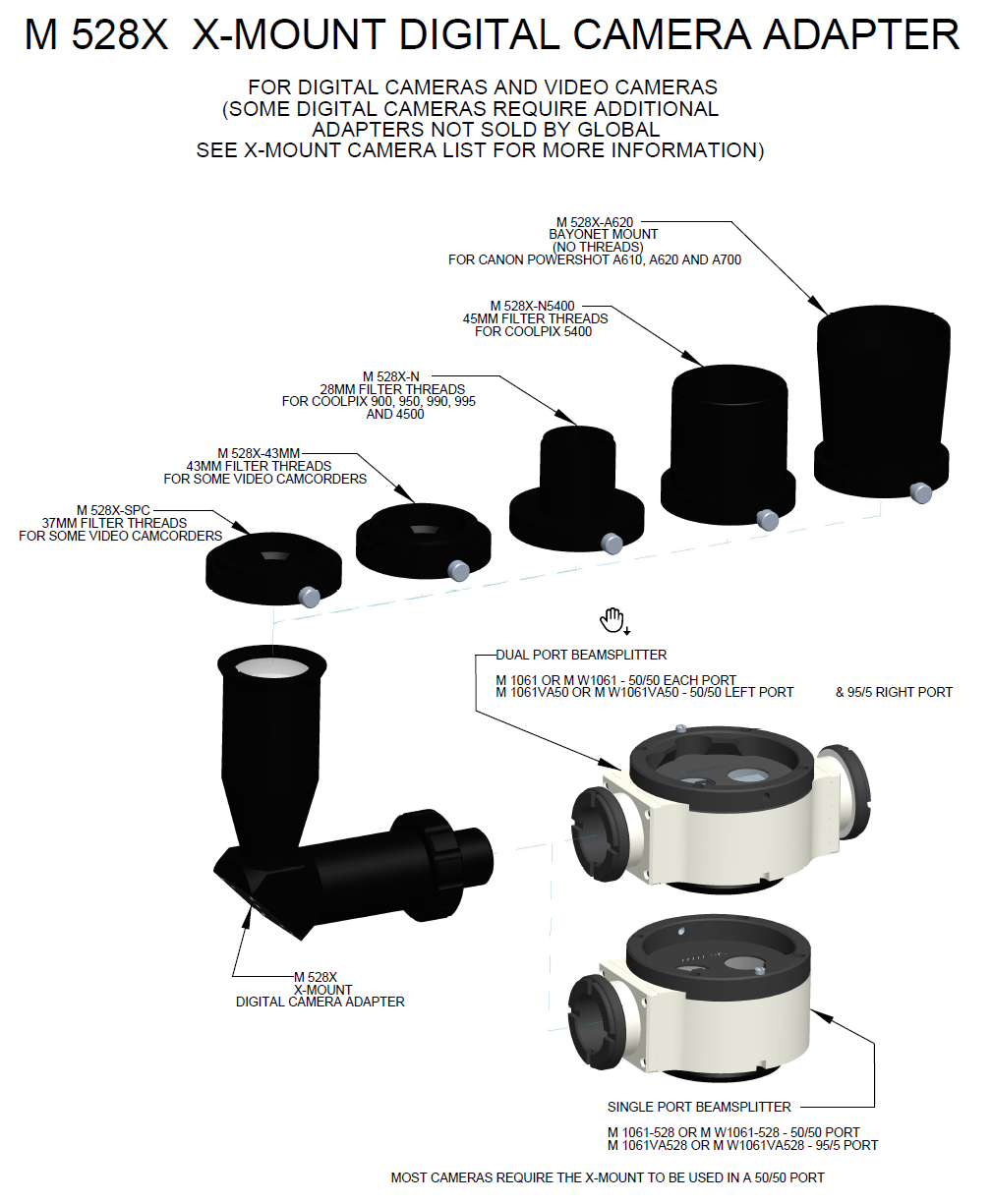 Figure 3 : The X Mount may require adapter rings, depending on your camera
The Global website has a downloadable Excel spreadsheet  with specific combinations of required rings and cameras
Manufacturer
sold by Global Surgical Corp.
Cost
Check Price with your local Global Surgical rep
JedMed Surgical Chairs
Efficient and comfortable use of the Surgical Operating Microscope demands that the operator purchase quality seating. Properly built, heavy duty stools provide support for the elbows and arms, greatly reducing fatigue and is absolutely essential for comfotable ergonimics. I originally purchased a Global surgical "clone" seat – not made by Global but similar. After two armrest failures (due to metal fatigue at the arm connection point) in the space of a year, I made the decision to purchase two of JedMed stools you see below.
These stools are manufactured in Germany by Jorg & Sohn www.joergundsohn.de and are sold in N. America by JedMed Surgical.
Price is approximately $1300 US  (with arms –which are a "must" for scope use) but worth the extra cost. They are ruggedly built, and I am sure they will provide years of dependable service. When you consider the amount of time that you spend in these chairs, it just doesn't make sense to try to scrimp on such an important piece of equipment. If they can handle my big tush, they can certainly handle yours!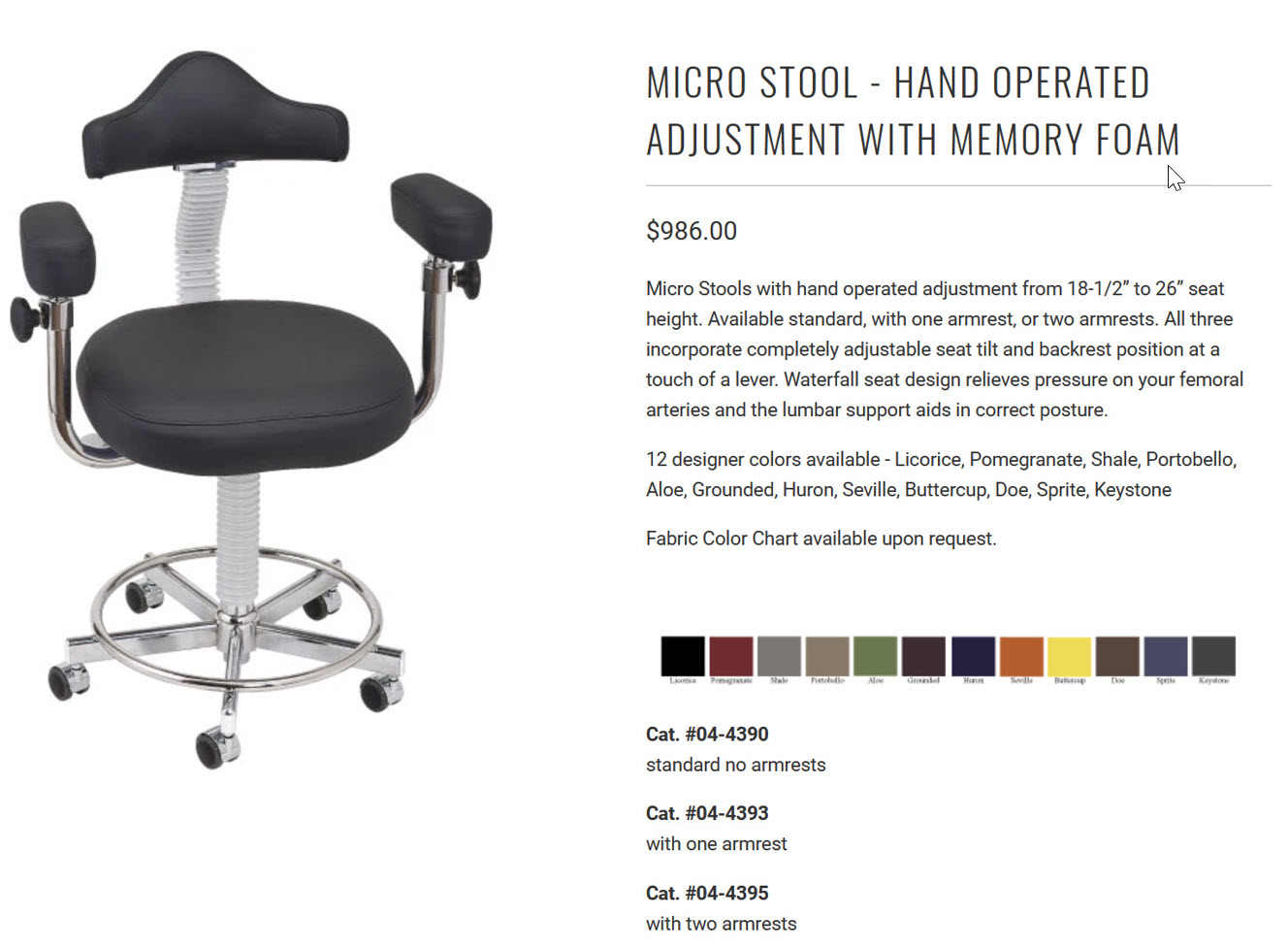 Figure 2:
JedMed Operator Microsurgical Stool
A MUST for proper SOM ergonomics.
Cost
~$1300 US (with arm rests as shown above)
ASI Carts
Until the surgical operating microscope became a routine part of my operatories, I didn't much consider the ergonomics aspect of my practice. I soon came to understand that comfortable, routine scope was based on proper ergonomics.  The operator had to have flexibility of patient positioning and the ability to move the required instrument cart to a position that allowed me access to it without any stress or strain.
The ASI Cart has become an important part of Endodontic treatment for that very reason. The cart is completely modular and customizable in that several different types of instruments and devices can be placed into the unit. This allows maximum flexibility for each individual clinician. I have found these units to be extremely reliable, adaptable,  configurable and easily serviceable locally, when necessary. Monitors easily mounted to rear.  ASI support is also excellent.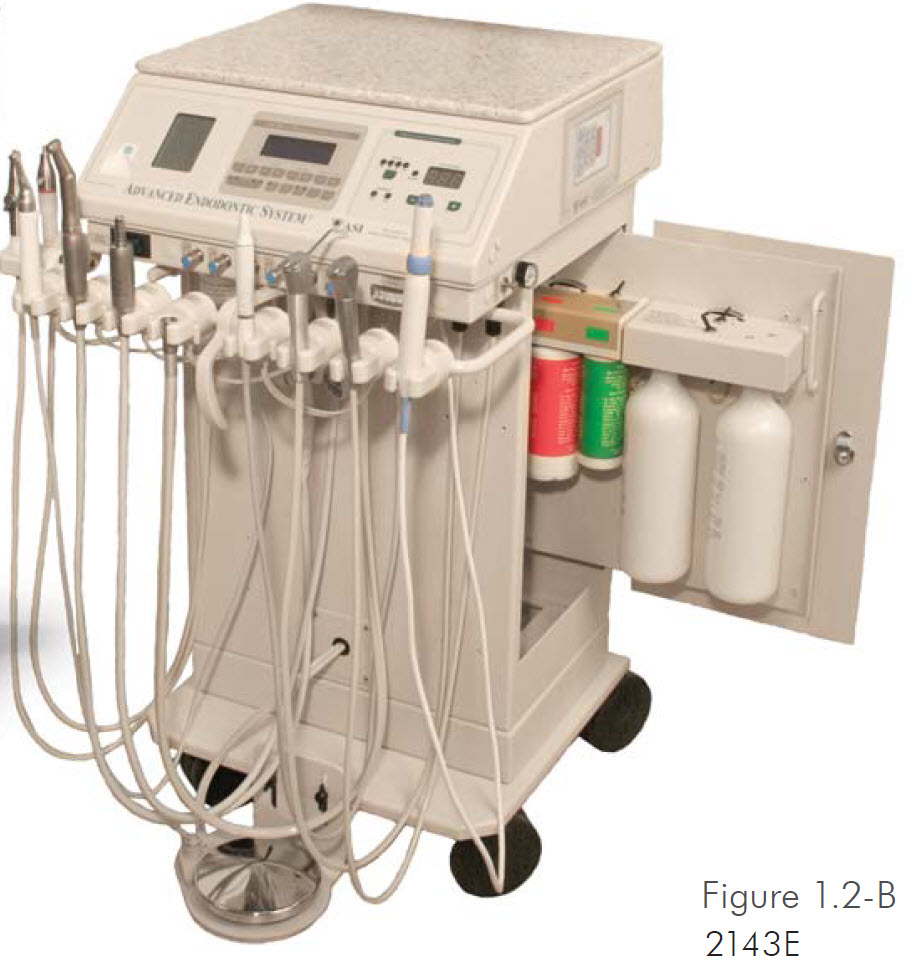 Figure 1: My current cart style
2143E Classic Advanced Door Dental Delivery System from ASI Medical, Inc.
Cost
Varies with configuration and number of installed handpieces, devices and accessories. Contact ASI for specifics.
Tell Me More


Select a Product Category