Office Hours
Monday to Thursday: 9 am to 5 p.m.
Friday: 9 am to 3 p.m.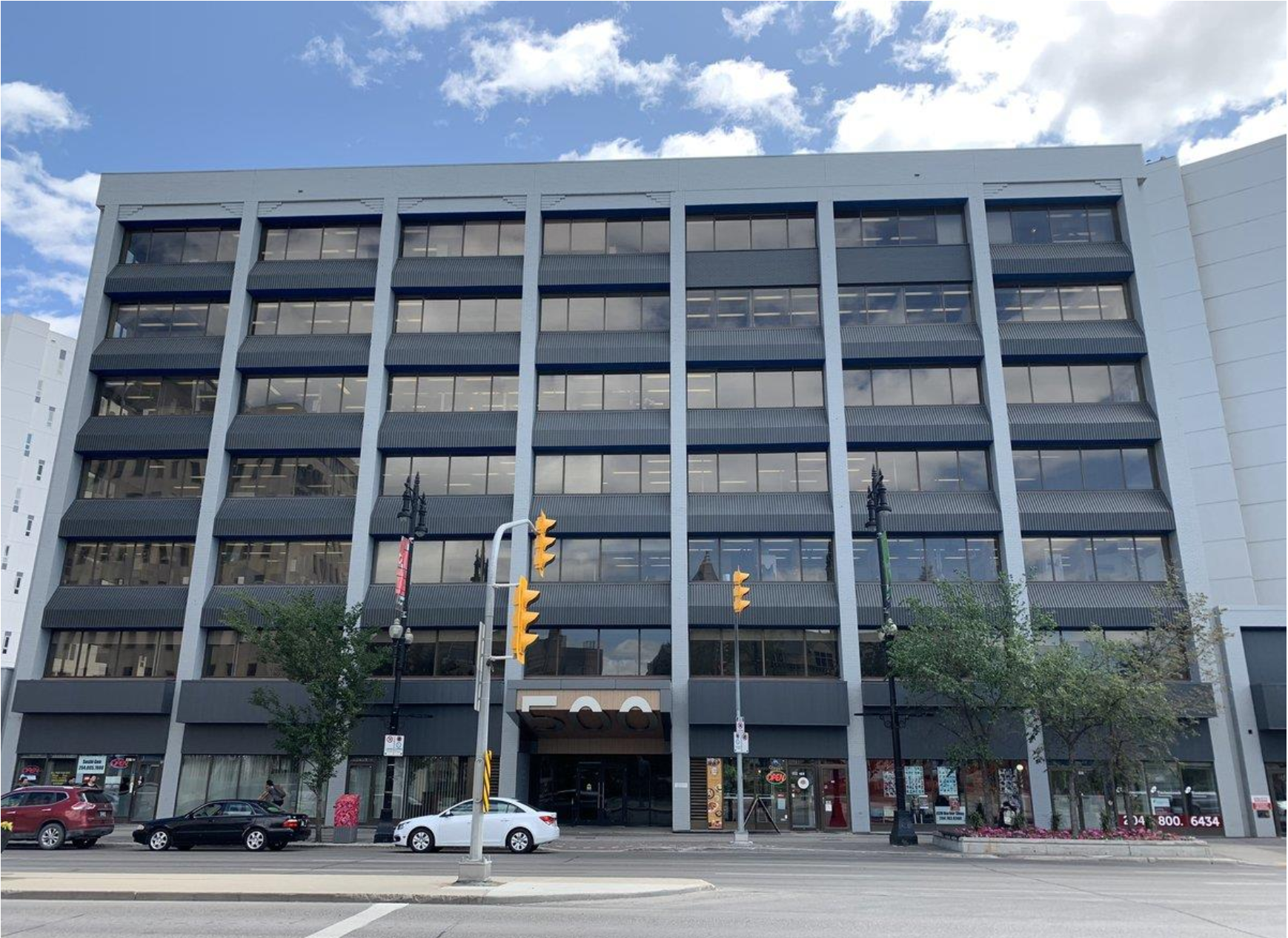 Location
Dr. Kaufmann's office is on the 7th floor of the Colony Square Building, 500 Portage Avenue. This is conveniently located directly across the street from the University of Winnipeg. Portage Avenue buses stop directly in front of the building.
Once you have gained entrance to the building, take the elevator to the 7th Floor Suite 710 – on your left as your exit the elevator.
Parking
Patients arriving with their own vehicles should park inside the building parkade. Access to this underground heated parking lot is located on Good St. (See arrow in above map) The Entrance is gained through the automated gate in the photo below.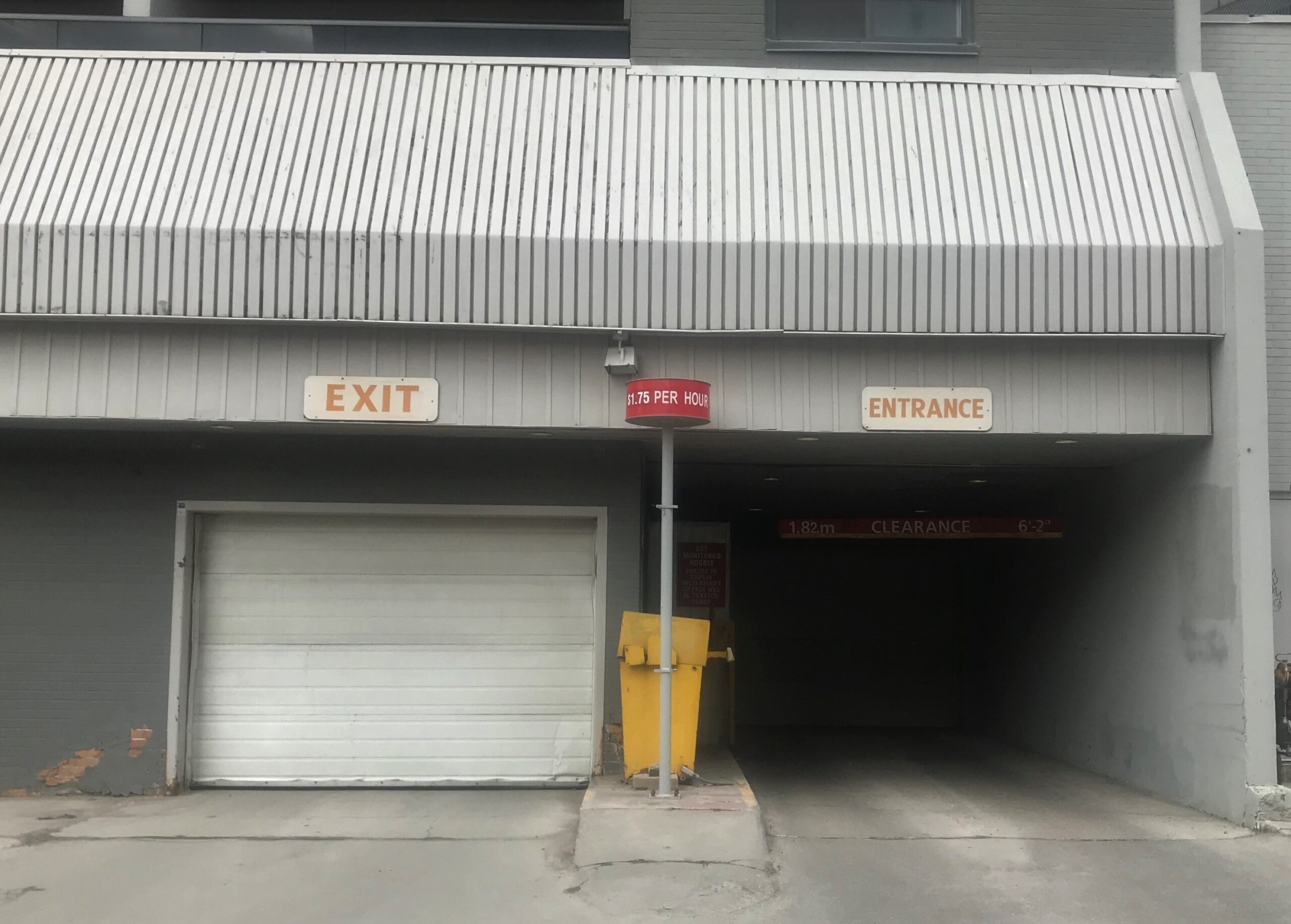 Drive up to the parkade door and push the red button attached to the yellow box on the driver's side. The door will open automatically.  Drive DOWN the ramp to the basement and turn left. ( Look for the overhead signs that say "HOURLY PARKING".) On your right you will find a yellow ticket box that accepts Loonies, Toonies and Credit Cards. Parking is paid by the hour. Make sure to display the ticket prominently on your dashboard.  Patients should provide for a minimum of 2 hours parking, especially those whose treatment will be completed that day. The parkade "Commercial Side" elevators take you directly to the 7th floor. Look for the signs that say "Dental Offices and Commercial".
Please DO NOT park using street meters. They are regularly patrolled and ticketed. Please note, parking is prohibited on Portage Avenue after 3:30 p.m. Dr. Kaufmann cannot be responsible for towed cars or tickets given to patients.
Our Office is now completely paperless. All records are kept electronically with secured password protection.
You can help speed up your visit by logging on the PATIENT portion of this site and filling out the necessary forms BEFORE YOU ARRIVE.
Upon Your Arrival
If you have NOT filled out the Medical Questionnaire, Consent Form and Financial Policy Forms, you will be given a Tablet Laptop Computer by Front Desk Staff. ( If you HAVE filled out the form online, we will still ask you to sign off on the information you have filled out.) This allows us to note any allergies, document any medications that you are taking and note any medical condition which may affect treatment. You will also be asked specific questions regarding your dental problem.
Any information that you can provide is always helpful in making a diagnosis. Patients taking Bisphosphonates (Fosamax) should be sure to indicate this in the medical history form.
Please fill out all information and sign in the area indicated when you arrive.
You can save approximately 30 minutes by doing this at home with your own computer. All information is private and the website uses banking industry type of security.
Please remember to bring any insurance information, forms or I.D. numbers with you. If treatment is to be completed that day, arrangements must be made for payment before treatment is performed.
Payment can be made by cash, VISA, Mastercard, Debit Card and personal cheques. My staff will be pleased to assist you in any way they can.