Endodontic techniques for Cleaning and Shaping of the root canal system have come a long way from the initial push-pull filing methods performed with carbon steel and then stainless steel instruments. Hand files are still required, but hand reamers have been replaced with highly flexible, engine driven Ni-Ti alloys, used in rotary motion. It is now possible to more easily create the desired continuously tapered cone shape that will be filled with vertical compaction of warm gutta percha. Here are some of the tools I have found useful in this part of endodontic treatment.
NSK TC2 Endo Mate
Most devices in the dental operatory gave gone cordless and the endodontic handpiece is no exception. Earlier handpiece versions were somewhat primitive in comparison to the sophisticated devices that now have excellent configurability of speed, torque and motion. These handpieces are much safer and instrument breakage with them has virtually been eliminated, as long as they are not abused.  I do not use reciprocal motion, as I prefer to negotiate canals first by hand files to roughly a size #15 before considering rotary instrumentation.
The auto shut off (battery saver) feature can be annoying but overall, the device is well made and reliable. Charges quickly and stays charged. Beware Chinese NSK "Style" knock offs that may appear similar but are not of high quality. This is an important purchase and because of that, it merits not going "cheap".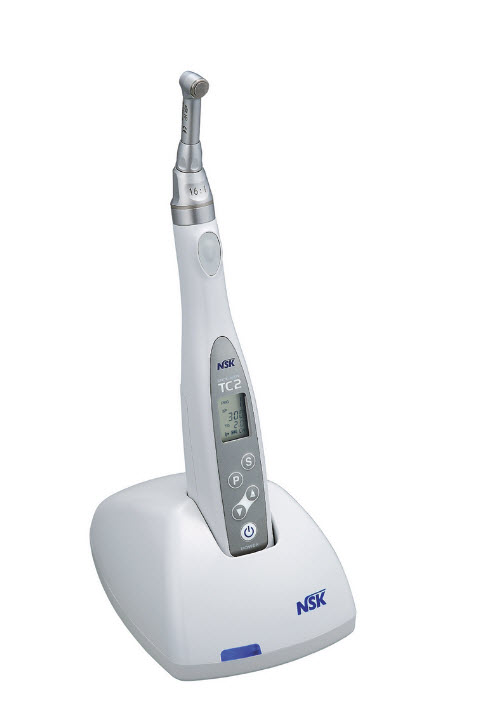 Figure 1: NSK EndoMate2
I prefer rotary vs. "reciprocating" motion when using a handpiece driven file.
S Files by JS Dental
The S file is similar to a Hedstrom file but with a much more robust design. These ground stainless steel files are extremely sharp. They were initially produced in Scandinavia,  Originally sold in Canada as the "Torendo" brand, they now have a US production facility and are sold by JS Dental. 
The S file works best on the "outstroke" and is extremely sharp.  By doing the majority of the work as you REMOVE the file from the canal, there is less tendency to want to push it forward and ledge the preparation.  The advantage of using stainless steel files for initial canal exploration in small sizes (.06-15) is that (unlike Ni-Ti files) they can reproducibly take a bend with something like cotton pliers, and keep it, allowing for easier negotiation of canals.
I am surprised that S Files are not more popular because I believe they have the perfect balance of sharpness, strength and efficiency.
Like any file, if abused, they will break and you must always be extravagant when considering whether to reuse a file. When in doubt….toss it out and get a new one.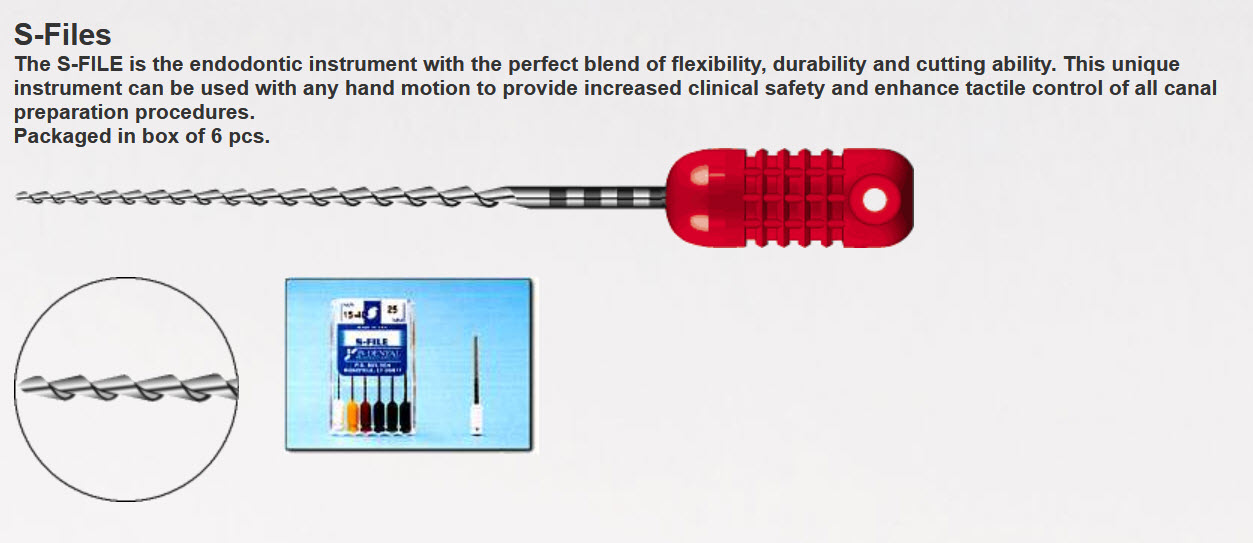 Figure 2: S File by JS Dental
S files are a variation of the Hedstrom file and are very efficient.
Barbed Broaches
The barbed broach is an underutilized but extremely valuable hand instrument. Because its use has been so minsunderstood in the past, it has gained an undeserved reputation as beeing a  dangerous and unreliable instrument that is prone to breakage.
When properly used, Barbed broaches can be one of the most efficient instruments in the Endodontic toolkit.
Removing the majority of the pulp in one piece saves time, prevents "balling up " of the pulp collagen fragments at the apex and increases initial penetration of your irrigants, essential for negotiation of the canal anatomy deeper in the canals.
The appropriate sized isntrument ( and you must have the entire range from XXX fine (purple) to XXX Coarse (Black)) is selected and inserted. The pulp is properly "entangled" in the barbs and removed in one piece.  The goal is NOT to macerate or blenderize the pulp but to "snag it" and remove it in its entirety.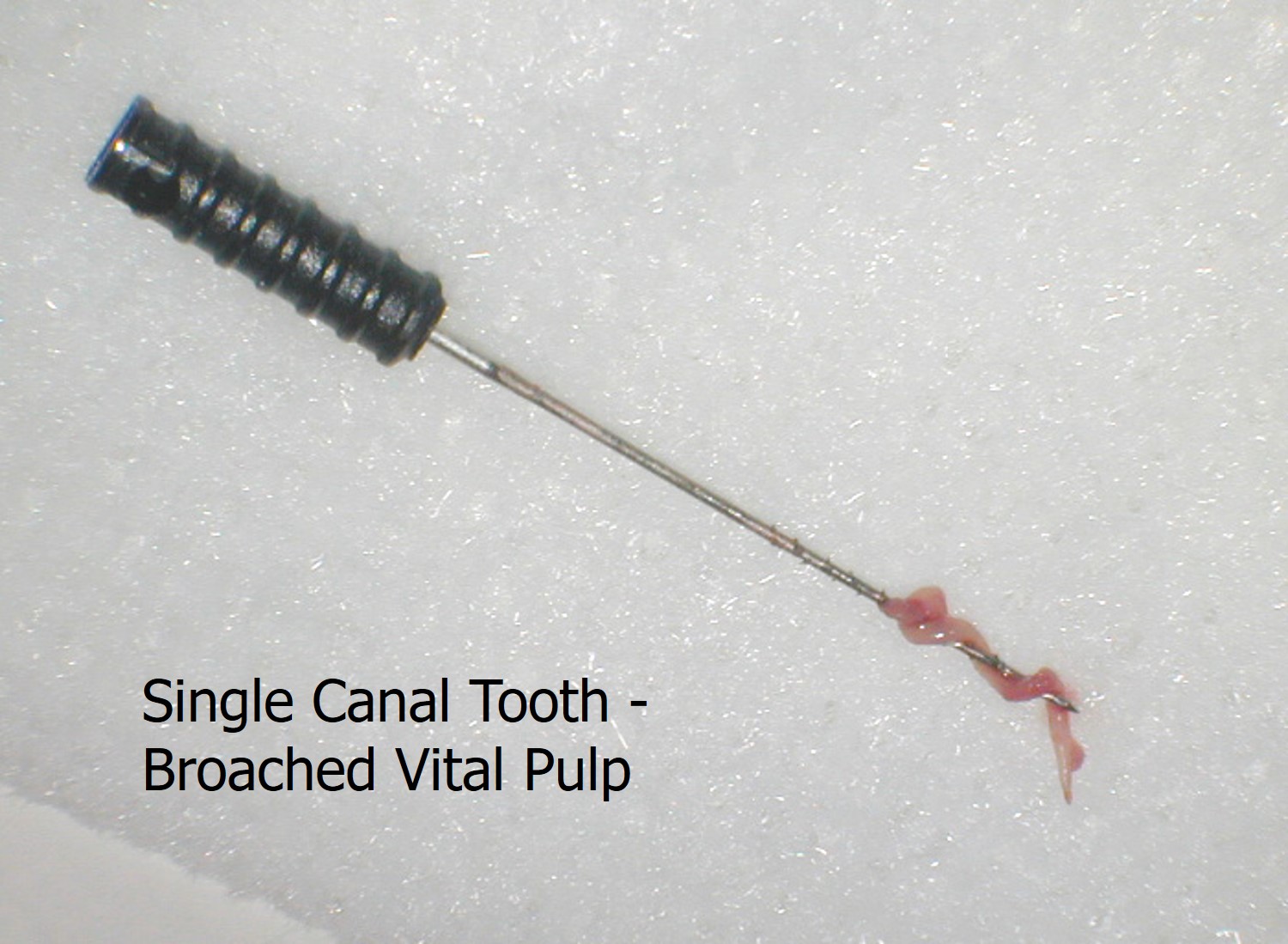 Figure 2: Barbed Broach
Removal of the entire pulp with a broach greatly speeds up treatment time.
Edge Files
My original cleaning and shaping regimen evolved from stainless steel hand driven files and reamers  and Gats Glidden drills of the 1980s to mechanized nickel titanium Rotary techniques. After trying several manufacturers, I eventually moved  (from Tulsa ProTapers) to a more conservative fiel design, theEdge Endo files X3. They were also much more competitive in price…at least initially. Edge Files were originally available in Canada direct from the US but unfortunately, they must now be purchased through Henry Schein, which has increased the price. However, the prices are still very competitive with other name brand files.
Rotary engine driven instrumentation is not a substitute for hand exploration, refining and finishing of canals. If you're looking for a file series, the most important factors are desired taper, fracture resistance and price.  Remember,  the result of that painting is not about "which paintbrush you use", it is all about "the painter". Endodontics is all about attentoin to details.
My technique involves using smaller (.06, .08, .10, .15 .02 taper ) hand files initially, (with an occasional Tulsa SX as a orifice opener) then  Edge N2 (17/04), followed by C1, C2 and C3 as necessary.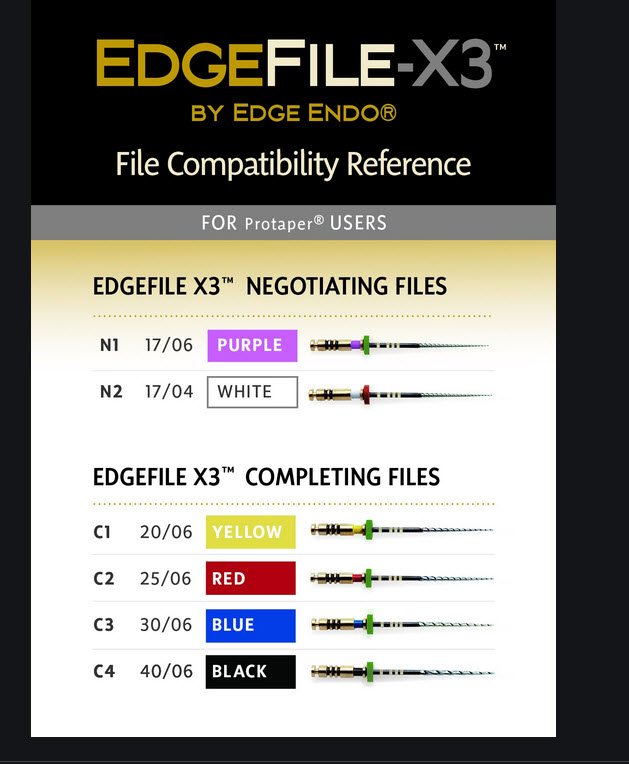 Figure 3: EdgeFile
X3 Series that I use.
Cost
Depends on file series and number of packs purchased. Call your rep.
Apex NRG xfr Apex Locator
Achieving reliable working length is an essential part of good Endodontic technique. Since the initial invention of the electronic apex locator (EAL) by Sunada of Japan in the 1960s, the apex locator has undergone many different generations of evolution. The current model I'm using is the Apex NRG xfr.
For consistent readings to be obtained two things have to be understood:
(1) Apex locators work best in a dry environment. (Yes, manufacturers say they will work wet, but it's been my experience that irrigants in contact with alloys and metal crowns can influence readings and it is best to try to get a relatively dry environment) and
(2) the size of the file must approximate the size of the foramen in order for you to get reliable readings.
(3) I prefer to use the "fork" attachment (rather than the spring loaded clip) when contacting the files for readings. It is quicker but does require a good, solid, consistent contact with the metallic portion of the file to obtain a good signal.
The readings should show a gradual migration of the lights toward the apex with reproducible "0" readings to confirm the Working Length. It is sometimes necessary to use a smaller or larger file to get the proper transition to the apex, as indicated on the machine. This EAL is smaller, easy to use, has excellent battery life and good audible tones.
As with ANY EAL, the weak link is always the leads. If you begin to get inconsistent performance, check the battery first and then check the leads for continuity by shorting the lead to the grounding clip and making sure that there is no break in the probe wire.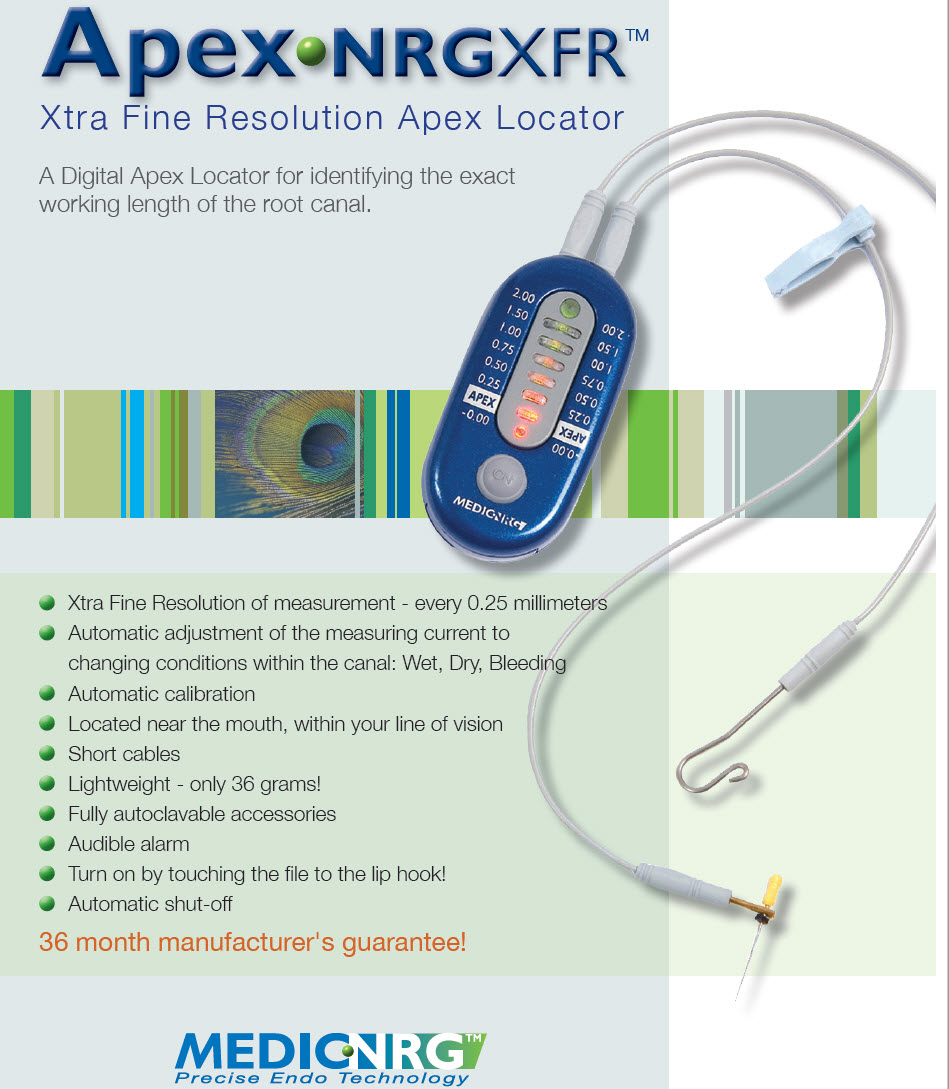 Figure 4: APEX NRG xfr
An accurate EAL is essential for good Endodontic treatment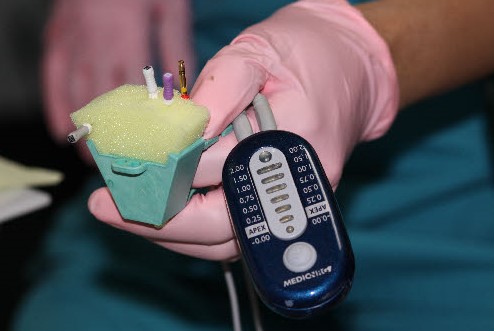 Figure 5: APEX NRG xfr
Unlike many EALs, this one can be easily held by the assistant  and readily visible to the operator without having to turn your head. Audio tones are also distinct and reliable.
Photo Courtesy TDO and Dr. Gary Carr
Cost
Also sold under Patterson Dental Label  ~$600 US depending on where you buy it. This older version has been difficult to find. It has been replaced with the S2 "rider" version that can be used with any handpiece. ~$725 US as illustrated below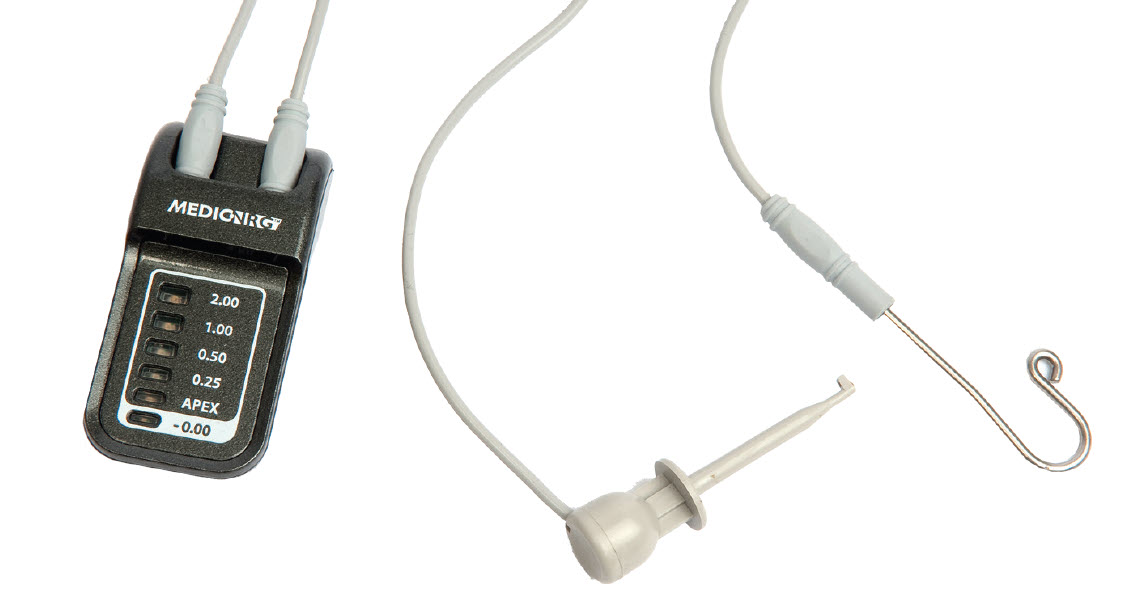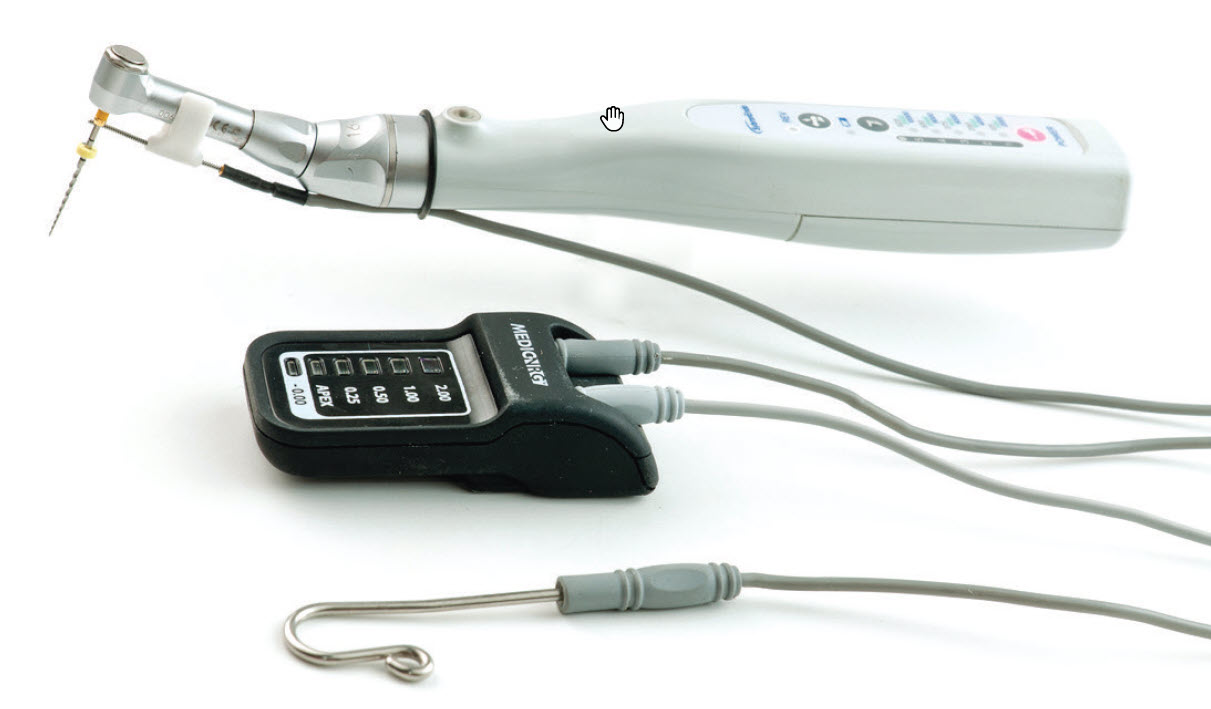 NEW ADDITION  SUMMER 2021
Kerr Apex ID
Eventually,the Apex NRG xfr became more difficult to obtain. We now also use the Kerr Apex ID.
Features include:
1.  a "User Zero setpoint" for those who wish to work short of the terminus
2. Works in all fluids including blood, irrigants and EDTA.
3. Good audible tone
It IS physically larger than the APEX NRG (which is a bit of a disadvantage) but it has been a consistent performer.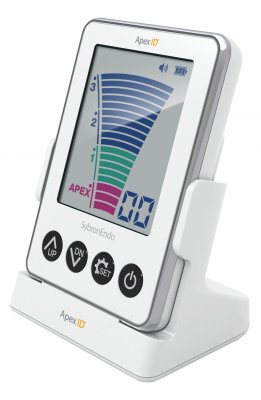 Figure 5a: Kerr Apex ID
Kerr's Latest version of the EAL
Cost
Approx $825 US at most Dental suppliers
Munce Discovery Burs
Munce Discovery burs are similar to a Mueller bur but are longer (21 mm!) and RIGID. The extended shaft allows you much better visibility in the deeper parts of the access. They come in 31mm and 34 mm lengths. That may seem long but it is the length of the bur that allows for greatre visibility. This is possible because handpiece is now far away from the access opening, allowing for better light and no blocking of the access with the handpiece head. (See diagram below)
Munce burs seem to be a LOT more efficient in cutting than ultrasonics. I also find visibility in canals is easier than Ultrasonic tips because Ultrasonics seem to generate a lot of "powder", especially  when used dry. This can obscure canal openings (like MB2) which seem to be easier to see with the Munce burs.  If you spend a lot of time chasing "white dots" ( calcified orifices) like I do,  these are highly recommended.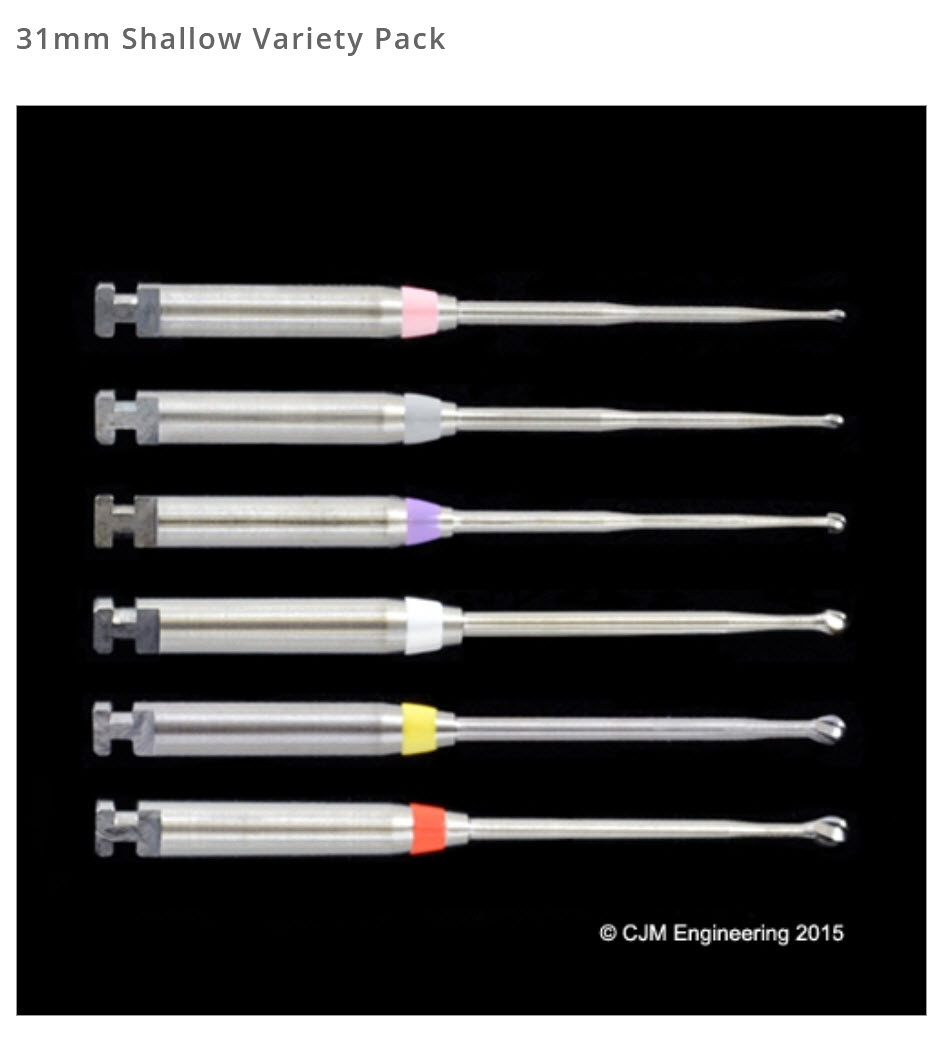 Figure 6: Munce Burs Variety pack
Available in 31 and 34 mm lengths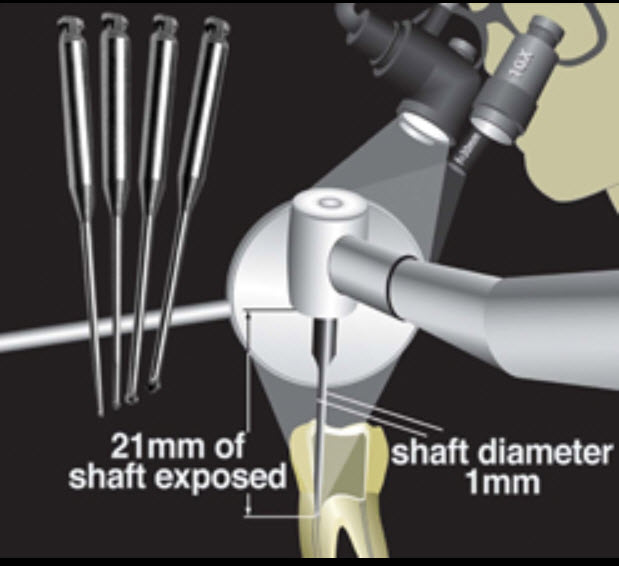 Figure 7: This illustrates how Munce burs give you better vision
Handpiece"away" from the access
Cost
$48 US for 4 pack of same size
$69 US for 6  pack variety
Acteon Satelec P5 Ultrasonic Generator
Ultrasonics have become an integral part of endodontic treatment. There are two important components to the ultrasonic system – the generator and the tips.
We are using an ASI Cart integrated Satelec P5. The advantage is that one foot control is used for all handpieces as well as this device.
The P5 is quite powerful and routine use of 100% power levels will break ultrasonic tips of even the most robust tip manufacturer. 85% should be maximum power level used.
These are essential for broken instrument removal, post removal and retropreparation.
As with any ultrasonics, use with water is important to prevent overheating of the tooth and tip survival.  This older model has been replaced with the newer Newtron P5 LED.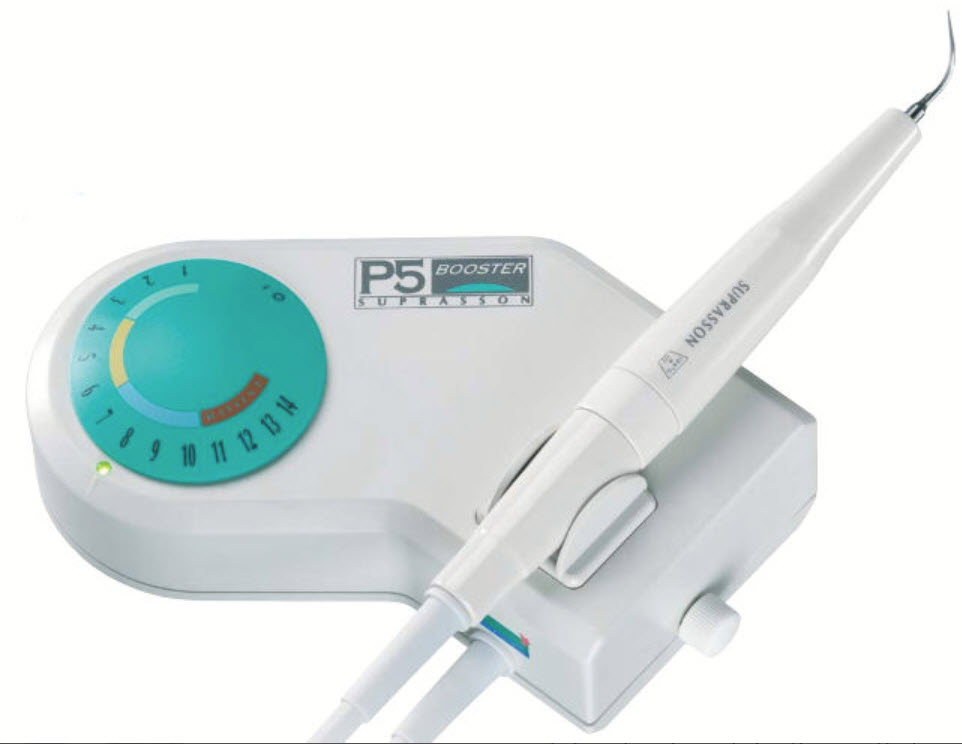 Figure 8: Acteon Satelec P5
Has been replaced with the newer Newtron P5 LED
Ultradent Capillary Tips
These Narrow, flexible taper plastic tips easily evacuate canals and substantially reduce the use of paper points.  They are also can be used to suction pulp stones, file fragments and debris.
They come in two sizes :
0.36 mm tip (purple)  has a 0.014″ opening
0.48 mm tip (teal) has a 0.019″ opening
Single-use only
Another advantage of using them is that they can be easily cut with scissors to larger diameters. This prevents clogging during suction of cases of AAA or with larger apices when draiange may be more viscous.
These tips require a special suction tip (such as the ASI microevacuator – See ASI Titaium Suction below) with specially designed end that allows the tips to friction grip. Occasionally they do clog during treatment because of the small diameter but they are inexpensive enough to be frequently replaced as necessary.
One of the most important uses of these tips is to determine whether prepared canals are joined prior to obturation.. The prepared canals are flooded and then one of these tips is placed in the orifice. If the fluid level in the adjacent canals drops and the fluid disappears, we know that the canals join at some point. We can then use other strategies to determine WHERE they join and fit our gutta percha cones appropriately. If the fluid level remains the same, we know the canals are entirely separate full length cones will be required for each canal.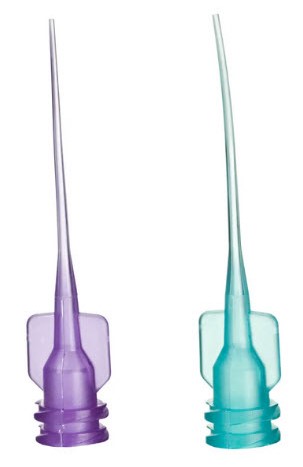 Figure 9: Ultradent Capillary Tips
Excellent for drying canals
UltraCal XS
Intracanal medication is part of routine endodontic treatment. The formulation of the material is not as important as the ability to place it where it is desired. 
Ultradent's UltraCal XS works well with their 29 gauge NaviTip. When you combine this with an EndoActivator to help move the Ca(OH)2 to the end of the root, you have an effective and economical system that allows for predictable medicament application to the apex.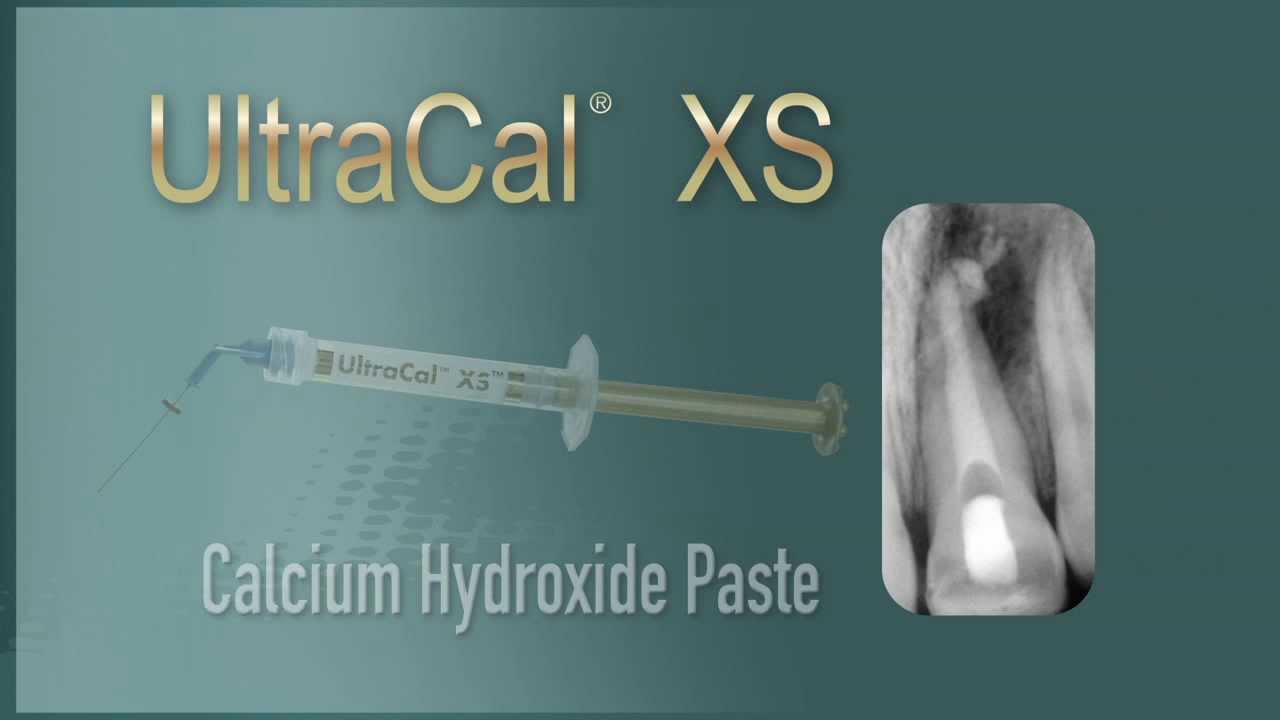 Figure 10a: Ultracal XS Application
If extruded, it is easily resorbed.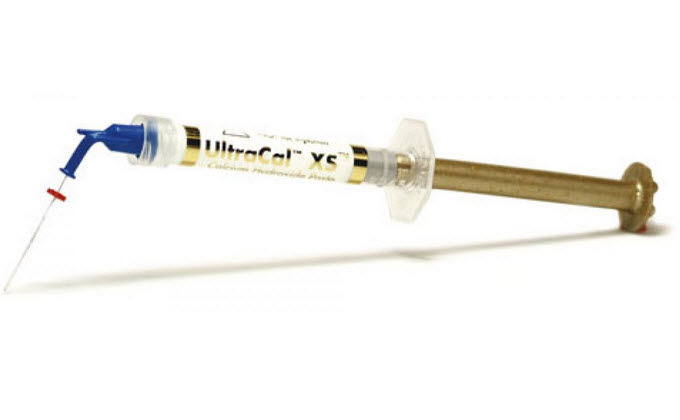 Figure 10b : Ultracal XS
This medicament can be easily plaved clsoe to the apex with a Ultradent Nav-tip and an Endoactivator.
Cost
Check with Ultradent or CRD (Canada)
VersaBrush
Versa Brushes are used to clean out post spaces on completion of endo in combination with EDTA or citric acid. Make sure to run them at relatively slow speed or the bristles may fall off and clog the post space.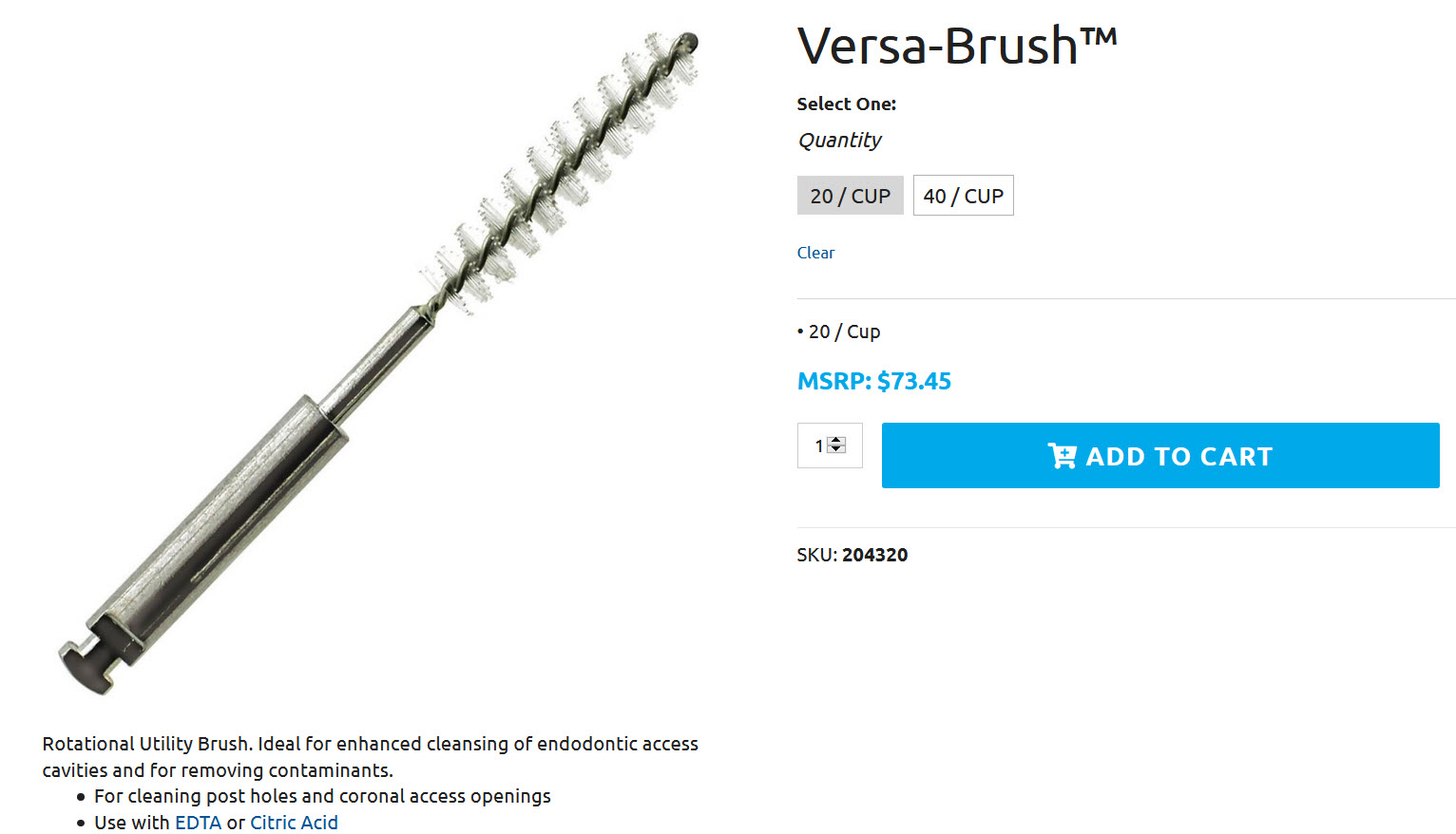 Figure 11: Versa-Brush
A quick way to clean post spaces.
Cost
Check with Vista Dental or your local Patterson Dental Supplier
ASI Titanium Suction
NaOCl solutions can wreak havoc on normal aluminum based operatory hardware. Corrosion is a huge problem for Endodontists and for many years I used to have to frequently replace evacuation valves that either pitted and leaked. ASI's precision-machined titanium Suction Handpieces offer a quality design with ergonomic features for lasting durability and ease of use. Titanium has excellent chemical resistance. It is lighter than stainless steel and provides comparable strength.
These titanium based valves are corrosion-proof and have held up very well. They have very smooth operation, and my staff say they are the best product that they have ever used. I believe that they have 10 year guarantee against corrosion.  Again, when you think of the cost of routine replacement, these are worth the extra expense. ASI's complete line of suction instrumentation includes (top to bottom) the Ergo Angle HVE, the Straight High-Volume Evacuator (HVE), the Saliva Ejector and the Micro Evacuator (used with Ultradent Capillary tips).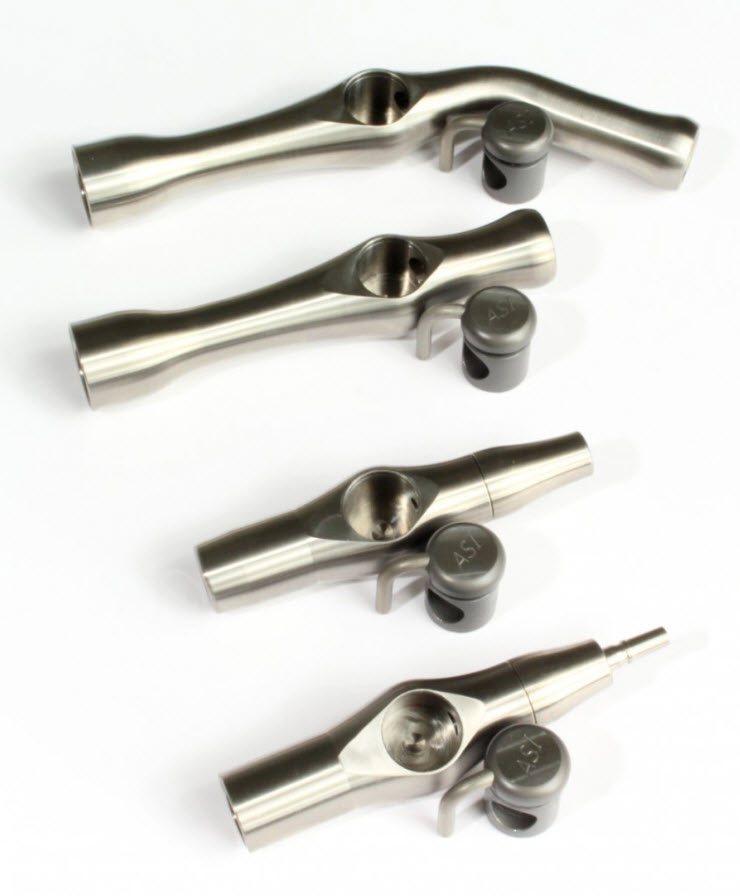 Figure 12: ASI Titanium suction
(top to bottom) the Ergo Angle HVE, the Straight High-Volume Evacuator (HVE), the Saliva Ejector and the Micro Evacuator (used with Ultradent Capillary tips)