Why would a tooth need Retreatment if a Root Canal has already been done?
Occasionally, a tooth may not heal as expected after initial treatment. This can occur for a variety of reasons:
Figure 1
Endodontic failure due to Blocked Canal.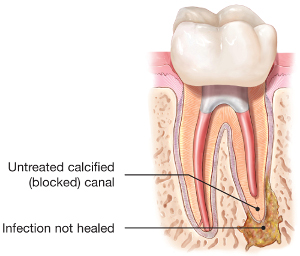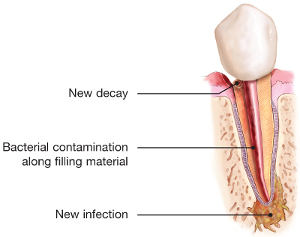 Figure 2
Recurrent decay contaminates previous treatment.
Narrow or curved canals were not negotiable or blocked during the initial procedure
Complicated canal anatomy went undetected during the first procedure
Crown or filling not placed soon enough after the procedure resulting in contamination of the canal filling.
New decay exposes the root filling material to contamination, causing a new infection in the tooth.
Loose, cracked, broken crown or filling can expose the tooth to new infection.
Conventional Retreatment
Conventional retreatment means removal of the original root canal filling, re-cleaning and refilling of the canal system. In some cases this requires Disassembly of the existing restoration. This may mean removal of a crown, posts and restorative materials to gain access to the canals.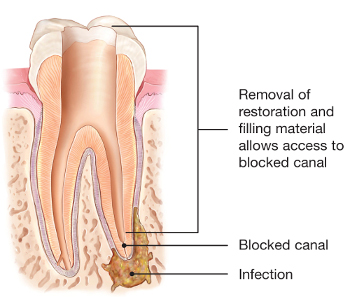 Figure 3
Removal of previous filling and re-cleaning of canal
Once the case is retreated, a temporary material will placed to seal the opening. You will be asked to return to your General Dentist for reconstruction. The tooth will require an interim temporary restoration while the area heals. In most cases, a final, permanent restoration will not be placed until there is visible evidence of healing (minimum 6 months post treatment). Dr. Kaufmann will schedule an examination at that time to confirm that the area is ready for final reconstruction.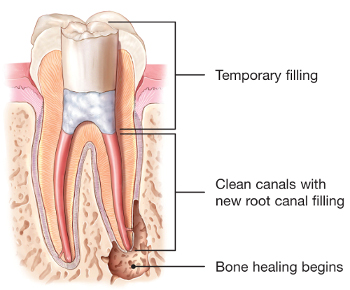 Figure 4
Reconstruction with a temporary filling.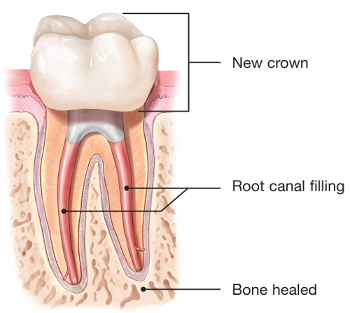 Figure 5
Reconstruction with a new crown by your dentist.
Prognosis
Each case is different, especially when retreatment is involved. Initial Endodontic treatment performed by a specialist generally has an extremely high success rate > 90%. However, because the natural anatomy of the case has ALREADY been disturbed by previous treatment attempts, retreatment prognosis is generally less. Other factors such as broken instruments, perforation (false path resulting in a opening in the root), deviation or ledges can adversely affect the results. Even after apparently good clinical results, in some cases Surgical Endodontic treatment may be the only option. Dr. Kaufmann will review all options and help you select the best solution for your case.
Surgical treatment prognosis is extremely variable. Sealing the root can be difficult due to poor access, difficult anatomy or lack of physical root length. Periodontal health, smoking and post operative care also affect the results. In some cases, the root itself has a crack and cannot be sealed. Surgical exploration may be necessary to confirm this finding.
Surgical Treatment
For some patients considering retreatment, Endodontic surgical treatment may be the best solution. An incision is made near the end of the root that allows for direct visualization and sealing of the root tip. Endodontic surgery is sometimes recommended in conjunction with retreatment. See Surgical Endodontics for details.
After Your Retreatment
Your Endodontic retreatment has just been completed. Retreatment has a good rate of success, but has a higher rate of complications due to factors related to the original treatment. In order for the best possible results to be achieved, we ask that you follow these instructions:
1. Avoid chewing in the treated area for the next 48- 72 hours. It is not uncommon for there to be some discomfort for the first day or two.
2. Use Anti-inflammatory medications (Motrin or Advil every 4-6 hrs) as necessary. These can be supplemented by Tylenol #3. Do not place heat on the area.
3. Call Dr. Kaufmann immediately at his office number if swelling or severe discomfort develop. See Contact for more details.
4. If further reconstructive treatment is recommended, call your dentist today to schedule an appointment. Dr. Kaufmann will tell you if a crown or filling is required. Reconstruction of the tooth is your dentist's responsibility.
5. Delay in reconstruction of the tooth can result in contamination of the root canal filling or outright fracture and loss of the tooth. This can happen in as little as a few weeks. Do not wait. Dr. Kaufmann cannot be responsible in cases where excessive delay in reconstruction has occurred.
Remember that removal of the pulp of the tooth will prevent sensitivity to hot, cold and decay. This does NOT protect the tooth against cavities. Cavities and Fractures are the most common reasons for treatment failure.
The long term prognosis for the entire case depends on three factors:
1. The quality of the post endodontic restoration
Your Dentist's Responsibility
2. Your ability to adequately clean and maintain the restoration
Your Responsibility
3. Regular check ups and recalls to assess the area
You, your hygienist and Dr. Kaufmann
With proper care, Endodontic treatment can last a lifetime. Reconstructive treatment is never permanent. Like any prosthesis, crowns, bridges and fillings may have be changed occasionally.
Speak with your dentist about the best way to reconstruct your tooth.
Tell Me More


About Endodontics